TOURIST PLACES IN MAHABALIPURAM
The total land area is an 8 square kilometers, situated exactly to the mean sea level. The population of this place is 12,000. The climate is moderate and breezy due to the location of the sea close to the land. Tamil and English are the two languages spoken here. There is no specific season for the tourists to visit mahabalipuram as it can be visited in, at any past of the year. The nearest Airport is in Chennai. The nearest railway is in Chengalpattu and it is well connected by road ways. The (ECR) East coastal road which connects chennai and Pondicherry passes through this place.
Shore Temple
This charming temple located on the shore is the most famous among the tourist attractions in Mahabalipuram. It is located between two Shiva temples and is a visual delight recognized for its architectural masterpieces. You will find the attractive sculptures of Nandi the bull while the figure of Vishnu is present in the sanctum.
Pancha Pandava Rathas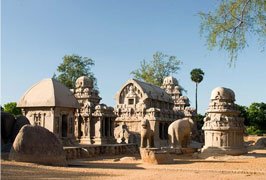 These splendid structures dating back to the 7th century are located in the southern end of Mahabalipuram. These Rathas (chariots) are five in number and carved out of a single rock. Out of these rocks, gigantic stone animals have been carved out including an elephant.
Arjuna's Penance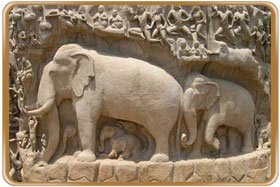 It is a massive bas-relief replete with meticulous carvings that include a family of elephants and monkeys. The carvings on the bas-relief are the stories from the legends of India and the Panchatantra . You will also encounter the Krishna Mandapa nearby, which is a bas-relief of enthralling architectural brilliance.
Caves
The caves in Mahabalipuram are among some of the most sought-after Mahabalipuram tourist attractions. The Varaha cave is one such cave which is actually a rock-cut mandapam (hall) and features two incarnations of Vishnu which are Varaha (boar) and Vamana (dwarf). There is also a seventh century Dharmaraja Cave and consists of three empty shrines. The other caves located here are Mahisasurmardini Cave and Tiger cave.
Krishna's Butterbal
This is a huge natural rock perched on a hillside and the precarious way in which it is balanced simply startles its onlookers.
Moreover, Mahabalipuram is also an ideal point for indulging in various adventure activities such as bike trips, boat rides, fishing trips, trekking and wind surfing.Touristplacesinindia.com offers online information on the Mahabalipuram Tourist Attractions and useful inputs on tour to Mahabalipuram.